My latest attempt at projecting the NFL Draft. Picks which have been changed since last time feature a new explanation.
For scouting reports of 225 of the draft's top prospects, including all of the players featured in this mock draft, buy a copy of my 2016 NFL Draft Preview, available for just $4 here: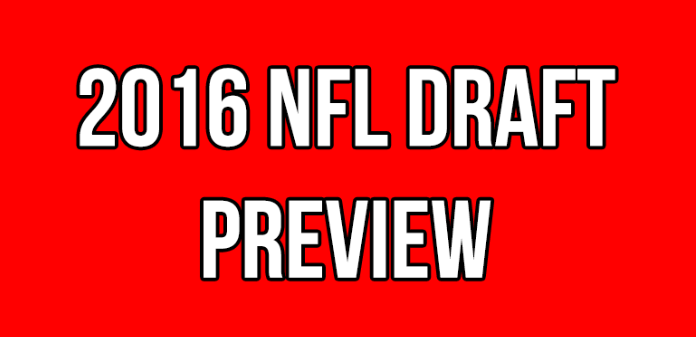 April 12th Mock Draft:
Tennessee Titans – OT Laremy Tunsil, Mississippi*
Cleveland Browns – QB Carson Wentz, North Dakota St.
San Diego Chargers – DB Jalen Ramsey, Florida St.*
Dallas Cowboys – DE Joey Bosa, Ohio St.*
Jacksonville Jaguars – LB Myles Jack, UCLA*
Baltimore Ravens – DE DeForest Buckner, Oregon
San Francisco 49ers – QB Jared Goff, California*
Philadelphia Eagles – RB Ezekiel Elliott, Ohio St.*
Tampa Bay Buccaneers – CB Vernon Hargreaves III, Florida*
New York Giants – OT Ronnie Stanley, Notre Dame*
Chicago Bears – DT A'Shawn Robinson, Alabama*
It's possible the Bears may want to complete their defensive front overhaul by finding a high-end five-technique option, especially since Jack Conklin is projected by some as more of a right tackle than a blindside protector.
New Orleans Saints – DE Shaq Lawson, Clemson*
Miami Dolphins – CB William Jackson III, Houston
Although Mackensie Alexander is my top cornerback available, the Dolphins may prefer the size and length Jackson offers, especially in light of a pro day which exceeded expectations and may have placed him in the first round.
Oakland Raiders – DT Sheldon Rankins, Louisville
Los Angeles Rams – QB Paxton Lynch, Memphis*
Detroit Lions – OT Jack Conklin, Michigan St.*
Bryan Bulaga, the right tackle for divisional rival Green Bay, may be an apt comparison for Conklin, who is the best run-blocking tackle in the class and would offer an immediate upgrade over incumbent starter Michael Ola.
Atlanta Falcons – LB Leonard Floyd, Georgia*
Having invested in Adrian Clayborn and Derrick Shelby to rotate at left end, the Falcons could pass on an end but may still want to upgrade their pass rush by adding a local product, the freakishly long, athletic, and versatile Leonard Floyd.
Indianapolis Colts – OT Taylor Decker, Ohio St.
There are some possible pass-rushing options available here, but with Decker available it may make more sense to hope the likes of Trent Cole, Robert Mathis, and Erik Walden can get pressure and focus on protecting Andrew Luck.
Buffalo Bills – DE Emmanuel Ogbah, Oklahoma St.*
New York Jets – DE Noah Spence, Eastern Kentucky*
Washington Redskins – LB Reggie Ragland, Alabama
A'Shawn Robinson having been moved up to the eleventh pick causes Washington to reconsidered their choice here, but they could still opt to replace the likes of Perry Riley and Will Compton with a true tone-setter defensively.
Houston Texans – WR Corey Coleman, Baylor*
Minnesota Vikings – WR Josh Doctson, Texas Christian
Cincinnati Bengals – WR Laquon Treadwell, Mississippi*
Pittsburgh Steelers – DT Andrew Billings, Baylor*
Seattle Seahawks – DT Vernon Butler, Louisiana Tech
Green Bay Packers – DT Jarran Reed, Alabama
Like the Redskins six picks earlier, the Packers have been frustrated in their ambitions to add one Alabama defender, but they remain projected to select someone from the Crimson Tide's front seven regardless, this time Jarran Reed.
Kansas City Chiefs – CB Mackensie Alexander, Clemson**
This seems low for Alexander, but unfortunately for him, most other teams have more pressing needs than drafting cornerbacks; at this stage in the draft, the Chiefs should be thrilled to replace Sean Smith with a fluid, athletic rookie.
Arizona Cardinals – LB Darron Lee, Ohio St.**
Off-the-field issues have sidelined Daryl Washington, so it might be time for the Cardinals to think about adding another hyper-athletic inside linebacker to their defense; Darron Lee is a great value at this point in the draft.
Carolina Panthers – LB Su'a Cravens, Southern California
Despite drafting Shaq Thompson last season, the Panthers may be looking at adding Cravens here in the late first; hypothetically, he could be groomed as Thomas Davis' replacement, or contend for the starting strong safety role.
Denver Broncos – DT Robert Nkemdiche, Mississippi*
Previously, Ryan Kelly was going here, but with Matt Paradis positioned to be the team's long-term starting center, it might make more sense for the team to gamble on Robert Nkemdiche, whose talent may allow him to replace Malik Jackson.
Also considered: Will Fuller, Jason Spriggs, Ryan Kelly Kevin Dodd, Eli Apple